There is a magic about the meeting of fresh and salt water. Must have something to do with boundaries, and the evidence that nature plays with them… like an artist. They become places of opportunity and flow, contact and discovery.
Yesterday, around 40 seals were resting on the other side of the river, bellies up and tails curled, every now and then wobbly-moving around or splashing into water. A great blue heron flew over our heads a couple of times as we were walking on the pebbly shore, eventually resting on a big pine's branch close to the log where we were sitting. We spent some time watching the tide gong back and forth, and the big ocean waves bursting on the outer rocks just outside the estuary opening.
These places of complex, networked ecology embody a message we constantly forget nowadays -Look at this magnificent diversity. At the relationships between every single creature -imagine even those your human eye can't catch..
..you are meant to be part of it. Come and sing along.-
Amazing how us humans twisted the concept of boundaries so far, into a rigid, scary bare tunnel of neon lights and razor wire… isn't it a perfect representation of how fear and pain feel inside?
Well, then it would make a better show in an art gallery instead of on the land, dividing people and creatures, making us more lonely than we could ever realize.
Here at Sitka I believe we are embracing the estuary's teachings, and pushed by some kind of joyful curiosity, we five residents of the Centre -Laurie Lambrecht, Eli Neuman-Hammond, Brie Schettle, Susan Waters and me- are constantly driven to each other. Our evenings have been often spent together over a bowl of soup, talking about art, ecology, playing music, knitting, having fun and deep-brainstorming at the same time.
A feeling of warmth, company, fueled by passion and diversity is enriching my days here, showing -singing along with the Estuary- how boundaries can be a place of sharing, connection and creativity.
"Nobody is an island" indeed, and my coming here, and the whole NewWorlds Project, didn't come out of individual, island-like effort either.
I have been supported by a number of incredible people to whom I am most grateful, and it is time to start acknowledging them -now that a week has passed since the beginning of my journey.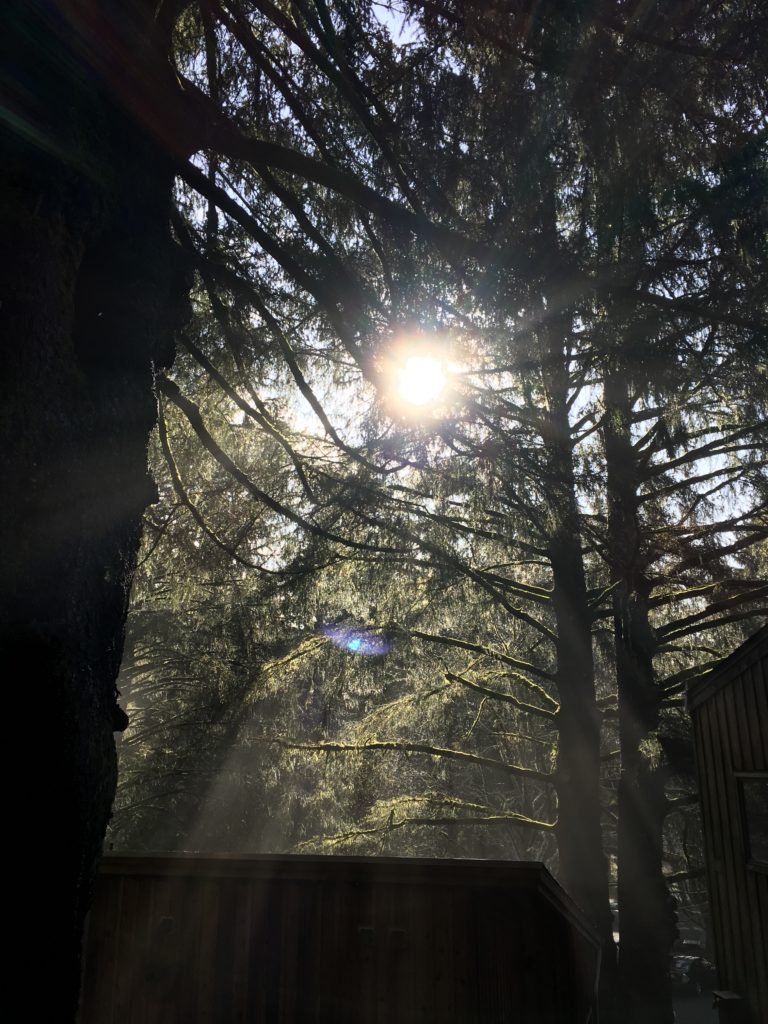 The FUP Friends of the Yehudi Menuhin Foundation are supporting the New Worlds Project with a scholarship, as a part of the Foundation's mission to support young artists in their careers.
I am the lucky first to take part to this new dimension of their amazing work, which has always been focused on the humanitarian visions of violinist Yehudi Menuhin.
The IYMF's work with children through the MUS-E Project is an incredible display of energies and passion for bringing the arts to elementary school pupils, to give every child -no matter the background- the chance to use creativity as a resource and voice, bringing stunning artists as tutors to the classrooms, where they interact creatively with the children for the whole school year. This gives the children a possibility to explore their creativity and connect with different cultures and each other through art.
The Foundation's multi-disciplinary Residency program -organized in the context of the European Project Music Up Close– have been for me the first step of a new life as creative artist, and the beginning of a journey that brought me here, now.
I want to thank the Foundation and the Friends, Marianne, Thierry, Sophie, and Claudio, for their support, trust and for taking part in this amazing opportunity for my life and career. You are here with me! And so are Yehudi Menuhin's values and hopes, that I hope to spread and share as widely as possible throughout my journey.
The images of this post are all from here, the Cascade Head Reserve and the Salmon River Estuary -except for the second and third-last ones, which come from the multi-disciplinary residency the IYMF organized at the Chateau de Ry (Belgium) for the Music Up Close Network in 2017.