What does wilderness tell us about ourselves?
What to hold on to? When walking alone in the forest, knowing we're entering the domain of Cougar and Bear, stepping on and under trees as old as ancestors?
What does our pinky funny body mean -no fur, no speed, no wings or fins, no shell or claw- in this green, grey, blue world? Standing in front of deep space, far-away horizons, on the shivering threshold of hight and light?
The Place I am walking and dreaming in in these times of intense wonder, is teaching me things about myself, that many years of life away have let pass unnoticed.
Arm-in-arm with marvel, questions arise constantly, like the steam from the forest below Cascade Head.
Everywhere is wonder. From the tiniest mushroom to the basalt cliffs, and the dancing flight of hawks, balancing on the line between the sea and the sky.
The forest is full of inner doors to feelings gone lost, covered up by urban existence, that are now stirring and awakening in the shade.
As they find their way back to the light, they start giving a new, vibrant taste to movement, breathing, voice, and belonging…
When set in front of such an open view and space, of such depths and subtle touch inside, what is it that you want to tell yourself, and the world?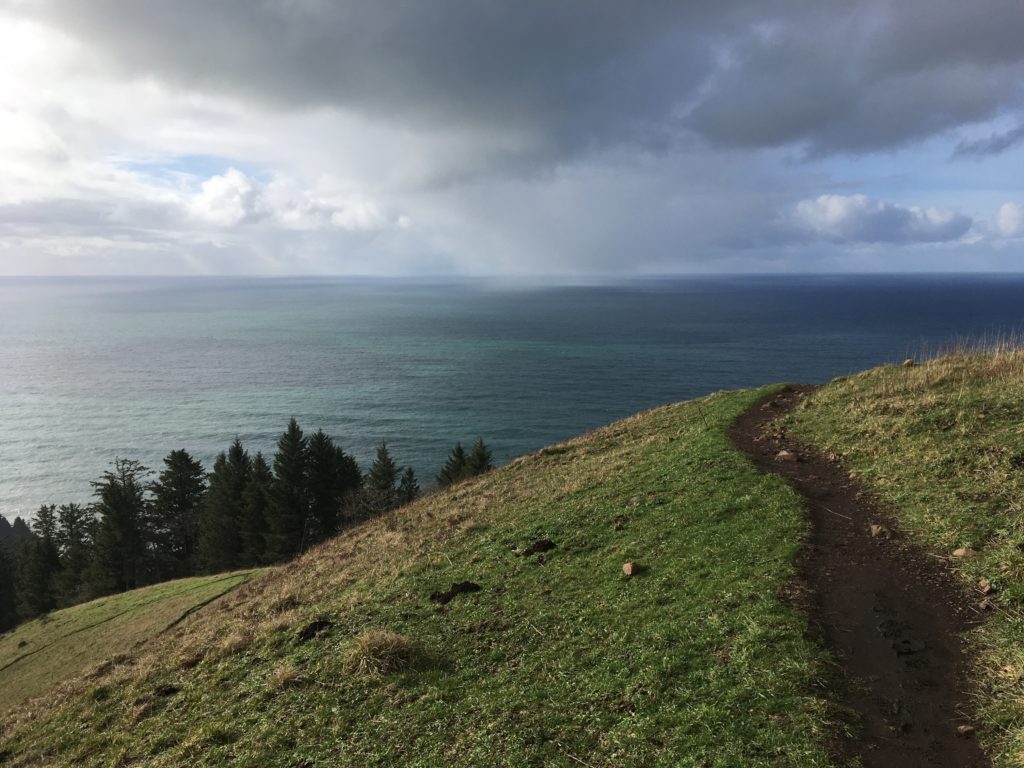 What is life offering you, and what are you gong to do with it?
I personally believe these questions are to be let alone, doing their job in the backstage of mind, and that the answers will surface when the time will be for them to do so.
In the meanwhile, I'm diving into life, by choosing what to do with this stunning amount of passion, amazement and gratitude these days at Sitka are offering me.
That is, doing art. Sharing it. Learning something new, every day.
And maybe, this is already an answer in itself.
This posts' pics come from a wonderful hike up to Cascade Head on Monday the 3rd. It was organized by Susan, our ecologist -and fiddler!- in residence, and it brought all us residents -Laurie Lambrecht, Susan Waters, Brie Schettle, Eli Neuman-Hammond- across sunshine, rain, snow and the most amazing views.

Susan left the Sitka Centre yesterday and headed back home towards her next adventures. I wish her all the luck in the world and I hope we'll meet and play Irish music again soon. Thank you Susan for your amazing stories of pollen, flowers butterflies and grasslands -and for the evenings of music and fun!