As my crowdfunding campaign is getting closer to the launch -thanks also to the friends and family who are revising it with me -thank you folks!!– it is now the time for a good update about the NewWorlds Project.
For those who haven't heard of it yet, "NewWorlds: an artistic journey" is the name of my current adventure across North America – USA, Mexico and Canada.
The project is co-founded by the FUP Friends of the International Yehudi Menuhin Foundation, as part of their new program to support emerging young artists in their careers.
"NewWorlds" was born in summer 2019. I had just been invited to be an artist in residence at the Sitka Centre for Art and Ecology in Oregon, US from January till April 2020. (That's where I am now!!)
As I started planning and imagining traveling so far, bringing my cello with me, I realized this amazing opportunity was asking to become an even bigger adventure. I thought that with some help, I could make it to include also Canada and Mexico in the trip, and stretch it to 2-3 more months on the road. I started writing down ideas and looking for support. It was August 2019.
I contacted the International Yehudi Menuhin Foundation and they offered me a 3000€ scholarship to help fund the project, as a pilot experience for their new fantastic program to support young emerging artists. I thank them deeply for their generous support and for their presence, which has been essential for me and my art through the last years.
I also decided I would take the chance to go on a new adventure -of a different kind- and organize a crowdfunding campaign, to cover another slice of the budget. Meanwhile, during the fall I worked to put aside some more funds.
Then finally it was end of January 2020, and time to hit the road! About what happened next, this blog is the best source of information…
Now that I am finally here, and the Project is developing every day more, I can tell it is the most exciting endeavor I faced so far in my life.
The NewWorlds Project has a dual aim of research and outreach.
During this adventure, I am developing and deepening my creative research in music, visual arts and writing, and I am sharing it with the local communities through free-of-charge workshops and concerts.
All this is happening as I travel with my cello through different countries and cultures: Oregon, USA, Veracruz, Mexico and British Columbia, Canada. This blog is our logbook!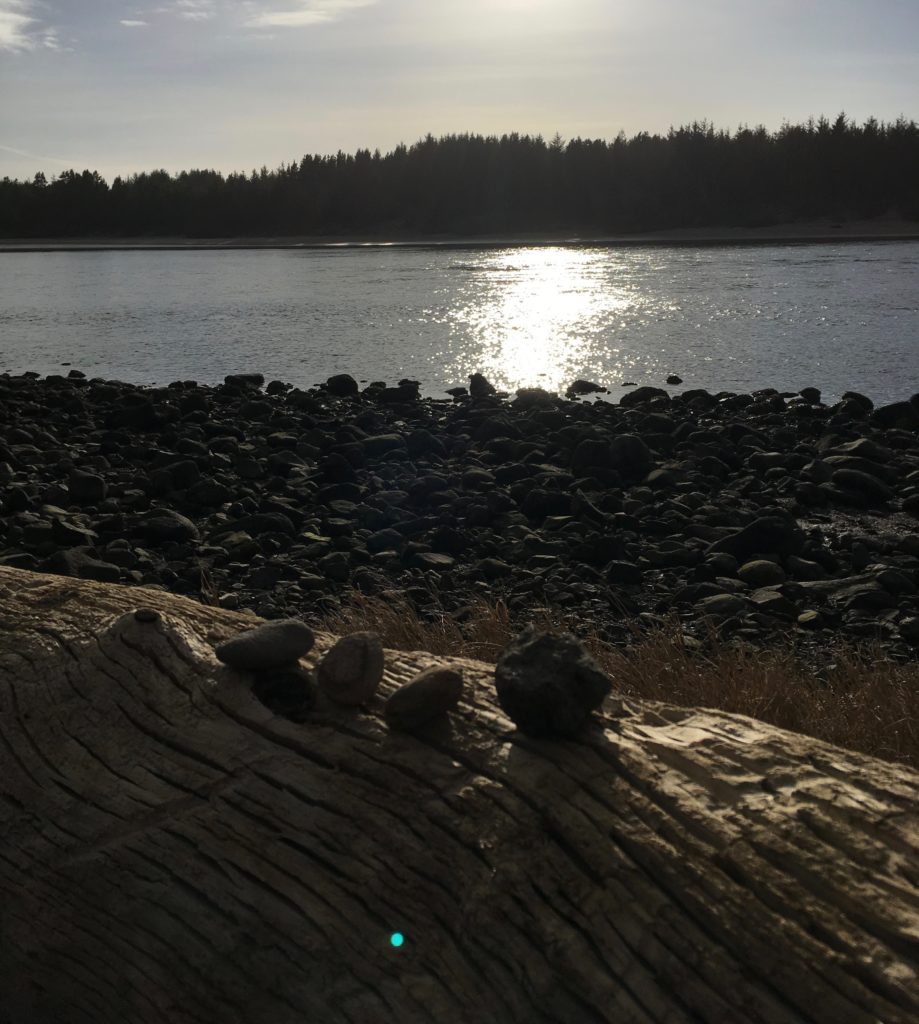 As for my creative work, I am now soaking up the wonders of the North West Oregonian Coast, being especially inspired by water environments and ecosystems like estuaries, coast lines and the ocean. I am currently working on new music pieces and imagining ways to blend-in the new dimension of fiber and visual art I am exploring. And writing -as you might know- is a constant presence in my days!
I am also developing a distance project about Humpback Whale Song with composer and zoomusicologist Alex South, and getting in touch with different marine science and conservation associations for future collaborations in US, Canada and the UK.
As for the outreach activities, the occasions to interact with the local community here in Oregon are becoming more and more – and many of them are already scheduled!
Schools – I got in touch with two local primary schools.
The Nestucca Valley School is a public school that hosts around 270 students age 5-12. With the support of their music teacher Bobbie, I will offer short concerts and group activities to 3 groups of children (around 70 kids) age 6-8, on March 6th. Then I'll join a meeting with the whole school staff on the 9th to figure out next steps together.
The Neskowin Valley School is a private outdoor school, which hosts around 60 pupils aged 5-12. I will offer a concert to the whole school on March 16th and then have workshops with the children on March 18th, with the support of Crystal, their music teacher.
I want to thank the Sitka staff for putting me in touch with the schools, and the principals Chad Holloway (Nestucca V. S.) and Jon Paxman (Neskowin V. S.) and teachers Bobbie and Crystal for being open and welcoming to my proposals, taking time with me to plan them accordingly to the children's and the schools' needs. I am very excited and can't wait to meet the kids!
The performances will be mixed-repertoire, cello solo and cello&voice based: aiming to give a view of the cello as broad as possible, I will share some classical pieces as well as diverse contemporary ones, both from the last century and of my own composition. The activities will focus on listening and creative expression, and will be inspired by the International Yehudi Menuhin Foundation "Ambassador Artist Residency Programs" I attended in 2017 and 2018, as well as by the Mus-E Italia training workshop (2018) and by a collaboration with Mus-E teachers in Belgium (2019). I will also propose some activities inspired by my recent work in marine mammal science outreach. Very exciting!
Community centre – The Panther Creek Senior and Community Centre in Otis hosts a community breakfast for a moderate cost every month. I got in touch with Mark and offered to join them with my cello for a live-music morning for their next breakfast, on March 1st. The offer was happily accepted! I will be there this Sunday from 8 till 11:30, doing a short performance (classical pieces and some of my songs) and then just being open to interaction: I will let those who want to try and play, I will answer questions, and maybe do a couple of musical portraits. For the Oregonians who are reading, I hope I'll meet you there! More infos here!
Bijou Theatre – A special Sitka Centre "Show and Tell" Event will take place in Lincoln City on March 21st, when soon-to-be resident Joanna Priestly will present a retrospective of her movies and show a new short in world premiere at the Bijou Movie Theatre! I got the chance to open the event with a 25 minutes set of my music -very exciting! Here you can find more press infos: https://www.cinemalovers.com.
I am now in touch with the Marine Mammal Institute in Newport and the Lincoln City Library, and I hope there will be the chance to organize artistic events with them too. Will keep you posted!
I will soon start networking towards the next chapters of "New Worlds": Veracruz, Mexico and then British Columbia, Canada. I will spend one and a half months in Mexico, thanks to a wonderful friend, who is also a luthier, Arael Landa, who will host me in Xalapa. Thank you Arael! I will then move up to Vancouver, BC in mid June, and still haven't planned how much time I will spend there before heading back to Europe.
The Crowdfunding I have been building up will soon be ready for launch, on platform INDIEGOGO.
It was a whole new experience for me, and quite some work, and I took up the challenge as an investment for the future. I hope it will bring more people in contact with my work, and help create a community of supporters who will follow me in my next endeavors -performances, workshops and concerts back in Europe, and the creation of my first compilation of original songs (!!!) which I expect to start working on in fall 2020.
Through the crowdfunding you will have the chance to receive unique gifts from me as a "thank you" for your support, and this blog will host weekly "Thanks Pages" where I will acknowledge all the supporters who stood up for the New Worlds Project.
As for what fuels all of this inside me… I believe art and traveling are my way to be. The way that works for me. I feel they are my chance to "leave the world a little better that I found it" using Terry Pratchett's words, and that that's what I am here for.
The NewWorlds Project is for me a unique chance to deep-dive in my way, start my own path, reaching out for different contexts and people and learning how to do it …by doing it! Which has always been my favorite way.
I want to address something I interpret in people around me, as a crave for nature and wilderness, a search for tools and channels to get in touch with it. When I think of the wild, I visualize it both in natural habitats and inside creatures, there where our passion, imagination and creativity dwell. Through art, I want to reach out to those magic things in the people I meet.
My creative work is always inspired by Natures, and although it's mostly those of other animals and ecosystems, sometimes it's the nature inside people … they are all such wonders.
Using art to acknowledge them, feel them, talk to them… feels every time like discovering new worlds!
I guess that's the deepest wish I have for my Project then. To bring people together. Bring them closer and open to Natures, those inside and those around us. Share the curiosity and love for the amazing world we inhabit. Take care of it, and of each other.
And believe in imagination, since it can transform us all into artists and -with a bit of work- it can make our wishes true. I really believe in this…
…after all, the New Worlds Project is the living proof.
I hope you enjoyed the heron's news today!

If you know someone who might like to follow or support the New Worlds Project, please share this post with them!

If you want to become part of the heron's newsletter, and receive news about updates and the Project, you can send me your address at altea.cello@gmail.com and I will be very happy to add you in.

Pictures today come from a hike up to Cascade Head this morning, and the many sunny walks to the forest and Salmon River estuary of the last days.