Today I was hit by a wave of sorrow, as I realized how many lives this virus is bringing away, and how much pain it is leaving behind.
Someone from Italy told me on the phone, that the time for singing is over… That now it is all about waiting for all this, to storm away.
I know about times for silence, it is a knowledge deeply woven in my work as a singer and artist. But still, I felt there was more to say.
I walked down to the estuary. Already on the road, as the trees and the sun reached to me, holding me, I let the pain come through.
As I got to the water, the wind was whirling around, hazy air coming from the open ocean. Seagulls calling and flying over agitated air currents, and on the other side, in the low water, a heron hunting.
I sit on a log, keeping my distance from other visitors. In these days our little corner got more crowded, as some families moved away from cities, sheltering from the disease among these soothing natural beauties.
As two little kids kept themselves busy fishing with their mum on the beach, I stared at the barnacle-covered stones leaked by the tide coming up. Some kayakers were paddling along the opposite shore, moving the seagulls around like water shepherds with their swirling floc.
I let tears come. This is Spring, a time to let go and welcome, and to find the words to greet those things we part from. Tears help.
I parted from a pain that doesn't belong to me, although I can feel it clearly, and as I wept I heard a sound that always makes my heart beat faster… A bald eagle was singing.
It is a special song to me. It is simple, resembles a sparrow chirping, only it sounds much louder. It gives me a warm, sweet feeling, to think of these big animals, and mighty, singing in such a gentle way. The eagle, an adult bird with its head and tail already white, was perched on a big spruce further down on the estuary. I smiled at her gratefully.
The world was saying, I am still here. Life is still here. Spring is happening, now.
It still is, a time for singing.
Below you find the poem from Wislawa Szymborska, "On death, without exaggeration". Today's post title comes from it.
I report it here in Italian, as this is the way I feel it most close to my heart. You can read the English translation here.
SULLA MORTE SENZA ESAGERARE

Non si intende di scherzi,
stelle, ponti,
tessitura, miniere, lavoro dei campi,
costruzione di navi e cottura di dolci.

Quando conversiamo del domani
intromette la sua ultima parola
a sproposito.

Non sa fare neppure ciò
che attiene al suo mestiere:
né scavare una fossa,
né mettere insieme una bara
né rassettare il disordine che lascia.

Occupata a uccidere,
lo fa in modo maldestro,
senza metodo né abilità.
Come se con ognuno di noi stesse imparando.

Vada per i trionfi,
ma quante disfatte,
colpi a vuoto
e tentativi ripetuti da capo!

A volte le manca la forza
di far cadere una mosca in volo.
Più d'un bruco
la batte in velocità.

Tutti quei bulbi, baccelli,
antenne, pinne, trachee,
piumaggi nunziali e pelame invernale
testimoniano i ritardi
nel suo gravoso lavoro.

La cattiva volontà non basta
e anche il nostro aiuto con guerre e rivoluzioni
è, almeno finora, insufficiente.

I cuori battono nelle uova.
Crescono gli scheletri dei neonati.
Dai semi spuntano le prime due foglioline,
e spesso anche grandi alberi all'orizzonte.

Chi ne afferma l'onnipotenza,
egli stesso è la prova vivente
che essa onnipotente non è.

Non c'è vita
che almeno per u n attimo
non sia stata immortale.

La morte
è sempre in ritardo di quell'attimo.

Invano scuote la maniglia
d'una porta invisibile.
A nessuno può sottrarre
il tempo raggiunto.

Wislawa Szymborska
Still listening to the eagle, I went through the stones and over to the water, to send my personal greetings to those who passed away in these days, wishes of safe travels, back to the Circle.
I wished I could be somehow close to those who are going through loss.
I spoke my wishes to the water, sent them far.
As a singer, and artist, I know there are times for silence, just as winter sends to sleep trees and greens, when its turn comes in the wheel of the year.
And I know that such times, they are meant to give way for new life, music to come. There is the rythm of breathing in all things, and we are all part of it.
And singing is what I do, it's the place where I always come back. It is home.
It still is now, a time for singing.
Pain can be sang, and sorrow. Music can smooth us into clean channels for heavy floods. It can shape white-hot emotions into something we can touch, say, hear.
It is a way to acknowledge, and let pass. It can be a path to follow through the woods.
I share with you today, a recording from this Saturday March 21st, our first day of spring, 2020.
The same day my grandma, confined in the tuscan countryside, wrote me lovely, powerful news of her hens, and cat, and plants joining the spring growth, this new turn of the year, towards a new warm season.
Eagles and hens alike, Oregonian coast and San Baronto's fields, spring is here, here and everywhere. May it be welcome in our hearts just as well.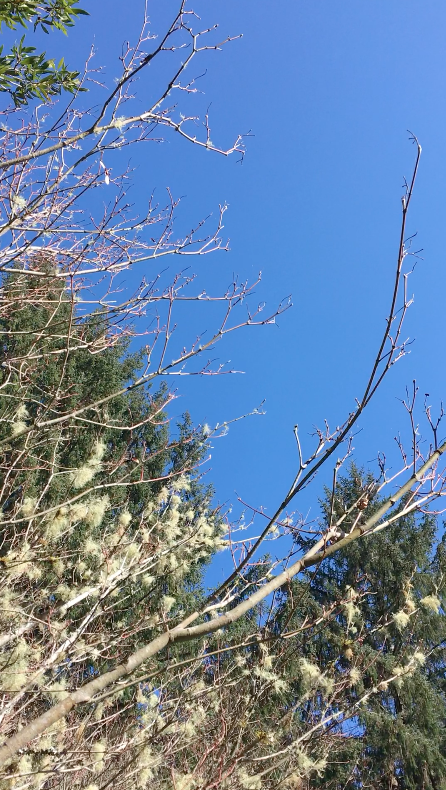 The piece is called Improvento, and it comes from an artistic residency I joined in Belgium in 2018.
It was recorded in the Sitka Center Campus during our Spring Equinox *Virtual* Concert, with the fantastic help -and microphones- of Eli Neuman-Hammond, a resident composer and friend who joined me in a recording performance after our scheduled concert was canceled, due to safety measures. I also had the opportunity to play one of Eli's pieces, "10 Cards" with him! It was a wonderful experience, and I advice you all to go and check out his website.
And then, in my Music page you will find a brand new song, "C'era una Volta", that came along to me yesterday night. A treat I received from the forest, I believe, and I am happy now to share with you.
As I got back from the estuary today, a fresh loaf of bread was waiting for me, the smell of it filling Morley House like the best hug ever.
Another gift from Eli, our special bread-master here at Sitka, who shared his recipe with me yesterday. Eli will soon leave Sitka to join back his family in Massachusetts. We'll miss him!
Here in the Sitka Campus it will soon be just me and friend and resident Brie Schettle, holding the fort. Sitka kindly offered me to stay longer then my residency-scheduled time -as far as I can get my tourist visa extended- since my flight to Mexico was canceled today and I now hope to stay here until things get better.
It all will get clearer in the next days and weeks, as I will make my way through this new bureaucracy challenge.
I leave you with another poem from Wislawa, "A Note".
May we all find comfort in spring, may its warmth keep us company!
May those who are now going through illness recover well, and soon, and join the spring growth with renewed strength and joy.

Un appunto

La vita – è il solo modo
per coprirsi di foglie,
prendere fiato sulla sabbia,
sollevarsi sulle ali;
essere un cane,
o carezzarlo sul suo pelo caldo;
distinguere il dolore
da tutto ciò che dolore non è;
stare dentro gli eventi,
dileguarsi nelle vedute,
cercare il più piccolo errore.
Un'occasione eccezionale
per ricordare per un attimo
di che si è parlato
a luce spenta;
e almeno per una volta
inciampare in una pietra,
bagnarsi in qualche pioggia,
perdere le chiavi tra l'erba;
e seguire con gli occhi una scintilla nel vento;
e persistere nel non sapere
qualcosa d'importante.


Wisława Szymborska
(Traduzione di Pietro Marchesani)