Summer has come visit Sitka last week. We had lovely weather for some days in a row, and I spent hours wandering outside on the paths now surrounded by thicker and thicker undergrowth and wildflowers.
The first foxgloves bloomed, as well as the lupins and the iris. Ferns unfurl in long stretched leaves that make the forest floor glow in green.
Spruces new leaves are growing, and the cones are opening, changing color and shape.
And on friday morning, as I got out of Morley House, there was a warm wind from the south in the Sitka Campus, blowing the pollen from the Spruces in golden waves of scented dust, a true Summer entrance in warmth and sunlight.
The weather called outside, and I felt the excitement of our neighbor animals for the coming of the season, this special time of the year I call home.
The next day a little adventure took place, that I had planned with some neighbors.
I wrote already how much the Cascade Head Ranch residents became my new community, as Brie Schettle and I started to deal with the new pandemic rules in an empty campus.
So with lovely Carrena, Peggy, Addy and Matt, as well as furry friends Nugget and Gus, we headed to the Salmon River for an unusual experience… an on-foot crossing!
Tides have been extreme in the last days due to the full moon, and water levels were low enough to allow to walk to the other side. It was a fantastic experience to meet the depths of the river barefoot, avoiding the occasional crab, enjoying the touch of sand. It all calls "summer" to me, and it is a most welcome call!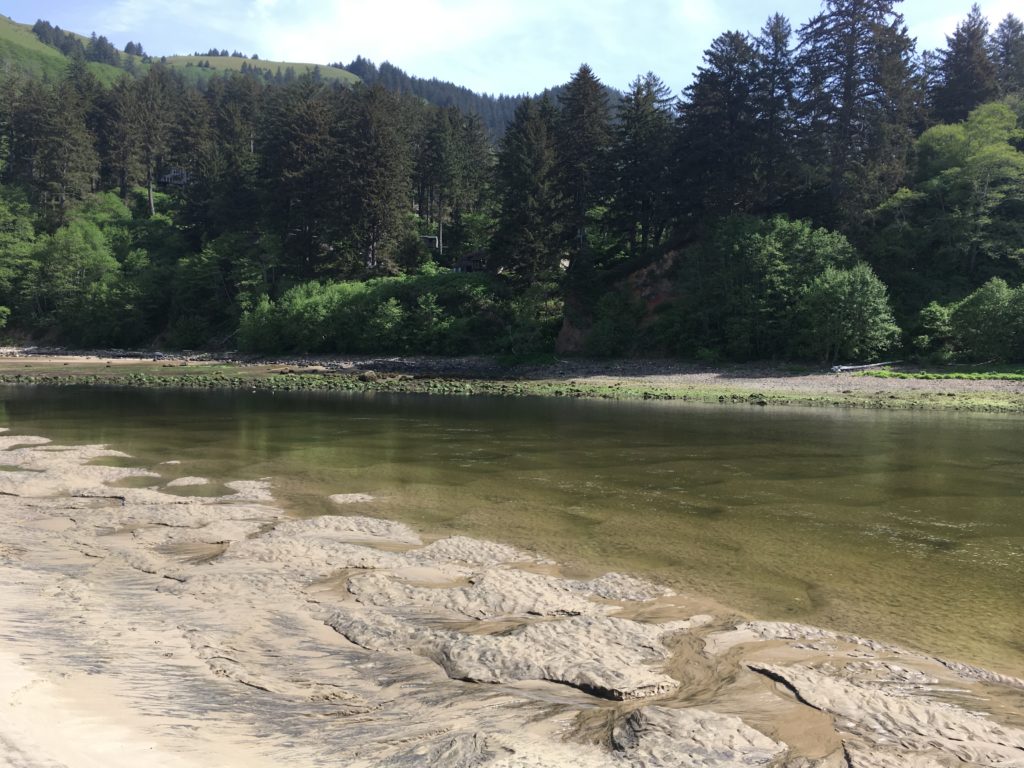 The beach on the other side, West Wind, was unusually "crowded" (means more than two parties in the whole beach..) with walkers and kayakers. This area is offering free space and wilderness for many more quarantined people of the area and further, even though many of the trails are closed.
It was strange to see so many of us, and it made me realize that I hadn't left the campus since mid march, almost 2 months! I have been meeting daily with Brie and the neighbors, but all the same, I am not used to large groups anymore.
Luckily we had the whole beach to spread out, and it was a really perfect day to enjoy such a beautiful place.
After a lovely walk I even took courage and swam in the river, while it was quickly filling up again. The resident harbor seals, brought upstream by the tide coming in, looked at me with their big black eyes as they were passing by.
I was so happy to finally share the water with them, and I had missed swimming so much. It was cold, but worth it!
I have been practicing social distancing to my cello too lately, enjoying one of our regular times off as I focused on other forms of art. Drawing and watercolors have been a constant company, and some of the projects I started are now taking clearer shape.
One of them is a short story for children that I wrote, started to illustrate and am now in the process of editing and making into an actual book, which I'll then try and bind exploiting my recent interest in paper embroidery.
An all-round process that has given me a chance to to work on composition, use of watercolors, drawing and how to arrange a story using both words and images. I am loving it!
And I decided to share it to you, by reading it for you. It will be in two episodes, as it is still a work in progress, so here you find the first one! It is called a "LongStoryShort" with title Dream Pajamas.
I wrote it in Italian, but I will read it in English, so everybody who watches will be able to understand.
Meanwhile I am gradually getting back to cello&singing, and I feel once more how much other arts and explorations (like the drawing, the painting and the time spent outside) as well as the simple time off, give me new angles and resources that I can then use in composition and performance. These other paths keep the act of music-making entertaining and ever-changing …fresh, as I like it.
This residency, as well as my life here under the pandemic circumstances, have taught me so much. I have now new tickets to Italy, for the beginning of June, but I don't feel that attached to dates anymore! I know I will return when it will be time for it. Baking bread (and letting it grow…) teaches a lot about patience and flow too.
(The last pic on the right is a rock formation from the cliff on West Wind Beach -I wouldn't advice to eat it, but it really looks similar to my last loaf!).
Meanwhile, I am taking all the opportunities to enjoy this realm of wilderness, before I get back to the more urban and crowded spaces of the Old World.
I know that I have much more work to do here in North America, with new collaborations and explorations to start and my New Worlds Project to wake from hibernation, as soon as the pandemic will allow…
All this was just the beginning!
I wish you all lovely warming days, and to enjoy the new freedom spreading across Countries as the lockdowns open up a bit… Take care and stay safe! Happy week to you all.