Traveling notes – June 3rd-4th (playing with time), 2020

Flight NY-Rome half way over the Atlantic
Sunsets flying east are my favorite place this high in the air.
They stretch endlessly in space and time, while the plane plays catch with the sun. Just above the last stripe of light, the sky is deep blue and clear, and full of stars.
I am writing in the roaring sounds of the plane cabin, the lights switched off, people in masks dozing around me, parents walking the aisles after small children, who don't care about meridians and time zones.
It is the most multi-species flight I ever took! I counted at least 8 pets in the very cabin, plus more in cages to be carried in the holes. Someone is even traveling with 2, 3 animals at a time.
Many of the dogs are emotional support animals, who thanks to the ESA certification are allowed to travel in the cabin no matter what size or race. I have a lovely big gray dog in the row in front of me, who got very scared at my cello wrapped in jackets and sweaters (while in travel mode, it becomes my coat hanger) when he saw it at the boarding. Now he is peacefully cuddling with his human while he watches a movie.
I got in NY after a day-long trip from the Sitka Center, through Portland and Salt Lake City. Lovely Elizabeth from the Sitka neighbors community gave me a most precious ride to the Portland Airport early in the morning.
I spent my last day of my shelter-in-beauty at Sitka cleaning and cooking, determined to prepare scrumptious goodies to get through the 2 days trip (and to make up to Elizabeth for the early morning wake up). So I was pretty satisfied when at the end of the day I had a fresh loaf of bread, a sage omelette, some chocolate-chip pan brioches and two bags of cocoa-pastafrolla cookies ready on the counter.
It was lovely to hear and watch the Campus wake up yesterday as I competed the last chores; and the drive to Portland went by swiftly with nice landscapes and lovely chatting. I found out there are volcanoes in Oregon! We passed Mount Hood and spotted Mount Saint Helen on the way, with snow on them! I later on could see also Mount Rainier (Washington State) from the plane. 
It was hard to part from Elizabeth, and Brie (who woke up early to help and say bye!!), and to Carrena, and Jane, Paul, Cheryl, Wes, Peggy and Matt and Clay and Addy, Tamara, Bob, Nicola, my magic SealFriend Margot.
The days before my departure were so full of gorgeous happenings!
Seal-watching beach walk, an eagle watching meet-up, a night hike, and an impromptu music sharing that gave me the chance to play and sing my newest pieces for the close neighbors.
I pause and smile recalling all the lovely memories. What a bright, light, warm luggage I bring with me! I peak again at one of the windows (I am in the central row) (How come the cello always gets the best seat!?!) and the sunset is still going strong. It is fun to travel faster than time!
My home-made food has made the difference for the trip, it was like having Morley House around me at every bite. I will share the recipes with you soon: they have been my musts in the last couple of months. You'll find them in the next post!
I have mixed feelings about this trip. When I left in January I expected to stay away until July, maybe August even, traveling to Mexico and Canada after my 3-months-residency at Sitka. The New Worlds Project had been in the works for months, my area project, a first of many art explorations, and it was ready to hit the road.
The Pandemic changed it all half-way through; the residency changed radically when Brie and I became the sole inhabitants of the Campus; watching the travel restrictions thicken I realized first that traveling to Mexico and Canada would not be possible, and then that actually traveling anywhere wouldn't.
I felt so lucky to be offered to stay at Sitka, to get my permit extended (twice!) and so be able to transform a potential big frustration and loss into a new chance to make beautiful things, enjoy life at the core.
And now I am here, on the flight that was canceled over and over and over..and as the sunset suggests (it is still there, redder and redder) I am going east!
It will be good to catch up with family and Italian friends, share my west-bound stories, discover theirs. These months have been intense for everybody and I look forward to find out what they changed… and what they left untouched.
As far as I am concerned, this adventure opened for me a time of exploration that is just at the beginning, and I have a feeling that It'll bring me further than I can now imagine.
Some days ago I was watching the river and the seals at my favorite spot on the estuary, and I remembered that as a child I used to feel very sad to be born in an era when charts have been filled up, the whole world explored.
I realized that that feeling has finally left space for something else.
Now I know, there is a new world to explore for every single creature on earth. "Beauty is in the eye of the perceiver" and who knows where else, thinking of beauty for plants and rocks, the water, the air…
Each of us holds a personal, secret key for a brand new perspective on everything around us. During this adventure I found my key, and finally saw a world none else ever explored.
My world; the world that is with me in every step I take.
As I greeted the water, the Salmon river, the seals, the air dancing with swallows in their fast flights, it all got clear at once. My world, my eyes. The magic I see around me…
I touched the water and smiled.
-I'll see you,…everywhere.-
Here up in the air the sunset goes on…I'll try an get some sleep. I let the stars take watch.
Quarantine-land, Rome

June 4th, later… but somehow it's still morning.

Note: Internal Clock just had it, and anarchically decided to take a break. With him goes Balance, who put the autopilot and now tells me I am still on a plane, or maybe a badly-led rowboat. Yay, jetlag.
I now write from Basement-Quarantine Fairyland in suburban Rome, my dwelling for the next two weeks.
On a different notebook, since all my luggage is quarantined in the garage till tomorrow. This means than, that this post won't be out till then.
It was fun to smell the sea and have the familiar Fiumicino's humid air on the skin once again, getting out of the plane. Luckily it is not too hot, so I am spared the weather shock! My trip mates and I went through some more queues and finally out of the airport. I crossed the yellow exit line with a guy traveling with a baby bulldog and a furry cat. I took a taxi and 15 minutes later, I was at my Parents'.
My dogs came to greet me while the rest of the family kept the safety distance and greeted from the porch. Tathi, Gea and I put up a fun impromptu choreography of no-touching "happy-to-see-youuuu!!" dance, Gea showing off a new tennis ball.
It was a sweet reunion, with both humans and dogs. My brother finished his quarantine just yesterday, and he and my mom cleaned and prepped the basement for me in one day. Thank you guys!
The place looks like the quarantine fairyland. Full cupboards, my yoga mat, the bed made with my favorite cover and -drum-roll- a huge chocolate Easter egg made for my supposed previous return in April! Everything around me says "care". I feel very lucky.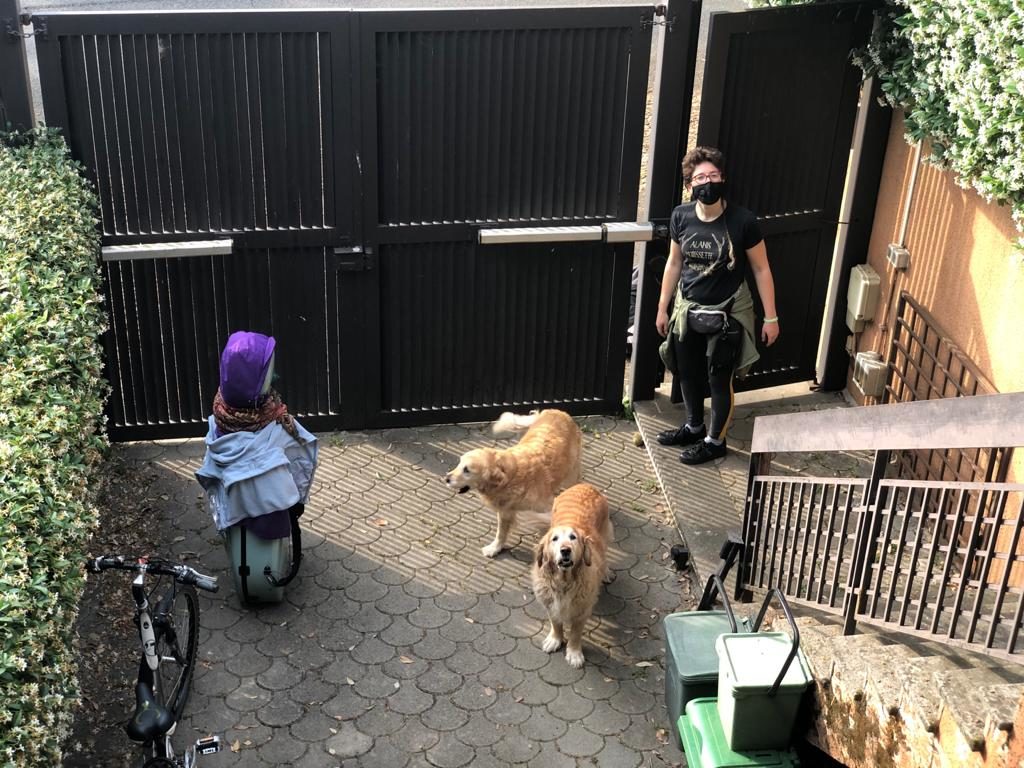 It has been lovely to watch the countryside on the way here, and to see it differently then ever. And the same with the birds and their songs, and the trees and flowers, now that I am used to others far-away…
But are they really far away?
I fill them all here, with me, in me. The exploration is here….
..Here and, everywhere.