Life out of quarantine is faster then I remembered!
I completed my 2-weeks isolation on thursday, and days have been bursting with activity since then.
The perception of Covid seems to fade more and more outside the house. Not everybody is wearing masks here, some people make closed-up groups on the streets, and it feels there is a strong tension towards acting as if nothing happened, forgetting about the last months.
I was far away when the pandemic started, and my last memories of Rome are from January, so the situation looks overall very confusing to me. I have to constantly remind myself of the rules and to be careful, especially when in presence of older, higher-risk people. Talking with friends about it in the last days, I realized I am not the only one.
Catching up with friends and family has been a sweet and dense experience. Discovering different stories and perspectives on the last months, I realized narration can help validate this time of uncertainty, while somehow defusing its tragic load, by sharing the storytelling and being together. This process has given a more complex representation of the pandemic to me, as I can directly feel how it affected different people in distant corners of the world… and even now, though the lockdown here is easing and events are happening again, things are still far from feeling normal -whatever "normal" would mean at this point. 
It still feels unsettled, and both fear and denial are walking around on people's faces.
Meanwhile, the wheel of the year went 'round and the solstice happened! The brightest day was bright and not so bright here, as big storm clouds arrived from the north…the storm didn't last very long though. And it brought amazing shades of blue and gray in the sky, and a nice fresh air afterwards.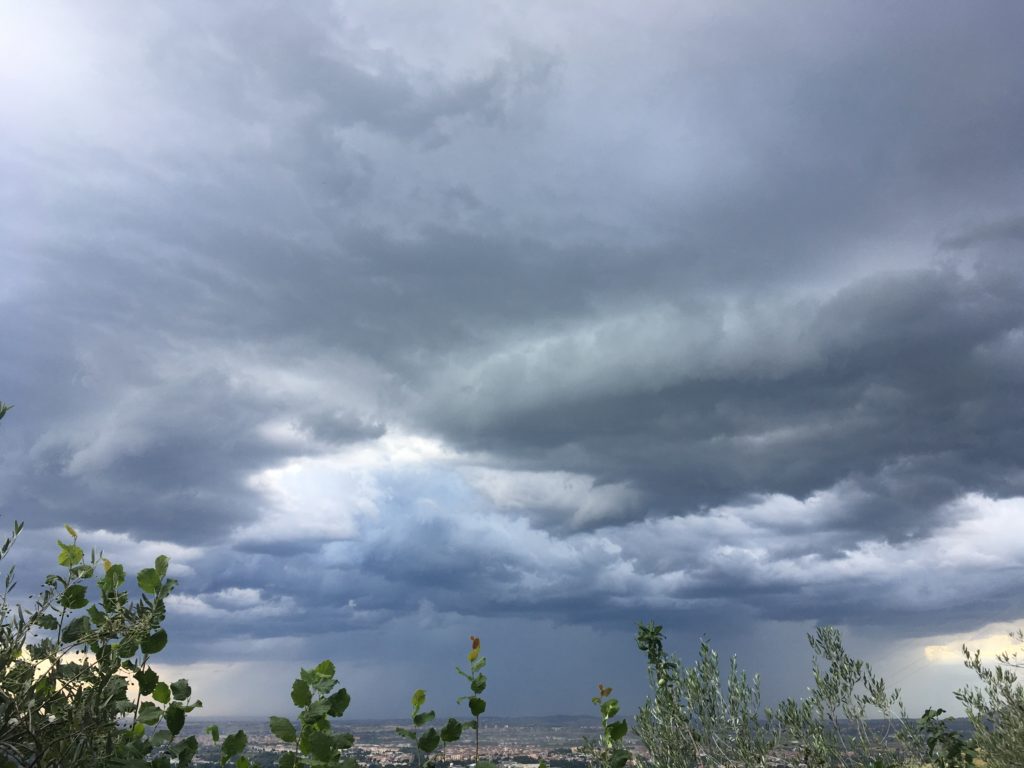 I have started to look ahead at the next months, and the news is, this heron won't stay put for long!
I will soon go visit more family in the tuscan countryside, for a couple of weeks. Then hopefully I'll spend some time at sea.
After applying for the position this spring, I have been selected as a research assistant by the Oceanomare Delphis Onlus (ODO) association! I will take part to the "Ischia Dolphin Project" 2020 research season 😀
ODO has been studying cetaceans around Ischia and the surrounding islands in the Tirrenian Sea for almost 30 years, and their work and effort contributed to the establishment of the Marine Protected Area "Regno di Nettuno" (Neptune's Kingdom) around Ischia, Procida and Vivara Islands.
In the Marine Protected Area live 7 different species of cetaceans, a big variety for such a small space! Spermwhales, finwhales, pilot whales, and the common dolphin, the striped dolphin, the bottlenose dolphin, the Risso's dolphin… They are all different and amazing! You can find out more about each species by clicking on their names (the ODO pages can be switched to Italian by clicking on the flag on the up right corner).
Oceanomare Delphis gathers data about these species' populations and behaviors, by for example photo-identifying them or collecting and analysing acoustic data. They also work with the public through education and outreach, to share knowledge and inspire interest about these animals and the threats they face. I am so happy and proud to be part of their team this summer!!!
I already met many of the other assistants on a remote meeting: we come from allover the place in Europe and beyond 😀 We are divided into little task-related groups, and my work for now will mainly involve remote analysis of photographic and acoustic data. Meanwhile, the Social Media team is constantly updating the Association's Facebook page -where you can find the latest marine-news from Ischia and the surrounding area!
We'll all be soon involved directly in the field work as well…on board the Association's research vessel Jean Gab, together with the researchers and the volunteers supporting the Project. I just can't wait!!
In September, as the research season will end -and hoping that the pandemic situation will soon ease there too-, I am now set on moving back to the UK, to continue my singing training and enroll in the WACARTS performing arts school, while keeping up my performing activity with cello and voice. I am now starting to work on repertoire and rehearsals for 3 concerts that will take place in the UK between September and February.
Art research isn't stopping either of course! I am happy to share a series of conferences I just discovered about arts and science, curated by CPNAS, the Cultural Programs of the National Academy of Sciences (US): they are called the DASER EXPERIMENTS. Since the live events were cancelled, everything happens online…so it is possible to join from anywhere in the world!
The dates take place on zoom, and include time for live Q&A with the speakers. I attended a wonderful talk about oceanography and data-inspired sculpture last week, and look forward the next event!
Meanwhile friend and artist Ingrid Erickson, who I met at Sitka, asked to interview me about my ocean-related work: the interview will figure on her blog! It will be the fist interview I give about my work and I am super excited 😀
I am happy to think travel restrictions won't last forever, and to be working on my next trips… At the same time, a part of me still feels as if I were back at Sitka, in the temperate rainforest of the Oregon Coast, where I have been till 3 weeks ago.
As I listen to the birds in this sun-flooded countryside, I find myself thinking things like "this is the European cousin of the black-eyed junco! Very similar trills, just a bit slower and brighter in the tone!" It happens all the time with different species and feels a bit funny.
Another bird around here makes a very similar verse to my beloved bald eagles… only on a much lower volume scale! (I admit it would be fun to see my old dogs' reaction if an actual bald eagle landed on the porch)
Spaces feel crammed here, and I hold on to the feeling of open landscapes that I remember from the ocean and the Salmon river estuary. I miss the freedom to walk out of Morley house directly into the forest, the magic slow-pacing effect of having the old sitka spruces as neighbors. And of course I miss the harbor seals! When I've felt a bit stressed or had trouble sleeping (jet leg recovery was impacted by a very vocal nightingale, who sings outside my window all nights long) I imagined them resting on the sand of West Wind beach, their hind flippers and noses up, making a spotted, chunky smile in the salty air. That feeling of mystery irony and connection they inspire is still vivid in me!
Overall, coming back to busy life is flowing smoothly, though densely and sometimes a bit overwhelming (going to a shopping mall was definitely intense, even with social distancing and few people).
Anytime I feel too closed up or restrained, I shake the tension away by taking my bike and diving in the sun, feeling the open sky above me… and things in and out start flowing again. 
Yes, the sun! There's plenty of it here, nothing to say about it!
So much that on its longest day, it really called out for a celebration.
I spent the Summer Solstice with some friends in a beautiful corner of countryside close to Tivoli, outside of Rome, and I could have not dreamt of a better way (nor of a better lunch!!!) 
Thanks to the lovely souls who welcome me as their friend even though I am around only twice a year, and are ready to take the chance to celebrate together and make beautiful memories of those times.
As I watched the sunset over Rome's plain, I felt the connection of the brightest day to its dark twin, on the other side of the year. From now on, days will grow shorter and shorter till December, then night will bloom into the next solstice, and then the tide of light will change again… And I thought, what an incredible world!
Always changing, offering these wide, pulsing grooves for life to grow and improvise on, endlessly transforming into something new and magical.…And us being a part of this amazing system. 
For a moment, both solstices where there, and the beautiful mystery and necessity of cycles was shining clear in the light of the setting sun. 
Something worthy many, many many celebrations 🙂
Happy Summer to all of you!